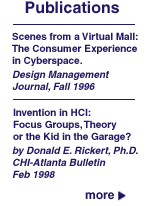 HITC senior staff member Michael Harris is chairing a panel at the 1998 SIGGRAPH Conference titled "Interfaces for Humans: Natural Interaction, Tangible Data and Beyond."


Balls Food has begun a computer-based training program pilot, designed to improve cashier's produce identification skills.
This pilot, APRICOTS, was created jointly with the HITC. See why they chose NCR.